I feel fortunate to work with Carly de Diego. She brings positivity and intensity to her role on our leadership team here at AdvisorEngine.
Her leadership directly benefits the wealth management firms that use our technology every day.
So it's well-deserved that Carly is getting some industry attention. Just this week alone, she was interviewed by leadership publication Authority Magazine and received special recognition from a group called NYC Fintech Women.
Authority magazine interview
Authority Magazine highlights leadership lessons from authorities in business, film, sports and technology. Here's what Carly had to say in the interview that sheds some light on her background:
"I was raised in a small Nebraska town by entrepreneurial parents. From the ages of 7 and 8 my sister and I worked at our dad's small-town grocery store. We helped with everything; unloading delivery trucks, facing shelves, peeling onions, wrapping raw meat, breaking down boxes, restocking candy (my favorite) and most importantly, counting back change to customers. My dad wholeheartedly believed in teaching us the value of a dollar…and how to go about earning one — while modeling a strong work ethic along the way.

My parents have always served as role models for fiscal responsibility and exceptional money management. They were able to support our family, retire early and now are enjoying life, debt-free. This commitment to financial freedom and investing wisely was actually what motivated me to consider opportunities in the field of finance. It is also something that I aspire to pass along to my children; the ability to have a healthy relationship with money."
Click here to read the full article

NYC FinTech women inspiring female leaders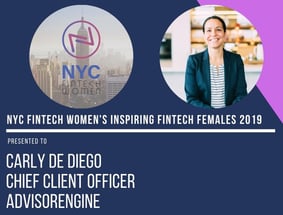 Some quick background on the organization that recognized Carly this week - NYC FinTech Women is a community aimed to support women in their professional advancement within the financial technology industry. They host group events giving innovative women the opportunity to meet, network and discuss all things FinTech; including wealth management, payments, mobile, social, lending, cryptocurrency, artificial intelligence (AI) and more.

Each year the organization recognizes women who embody its mission - to strengthen the FinTech ecosystem by empowering and sponsoring women who are transformative.

The AdvisorEngine® team thinks that Carly's recognition this year is well-deserved. Throughout her career at TD Ameritrade, Merrill Lynch and AdvisorEngine, she has been an effective, execution-minded leader.
CCO = Chief Client Officer = Chief 'Crushing It' Officer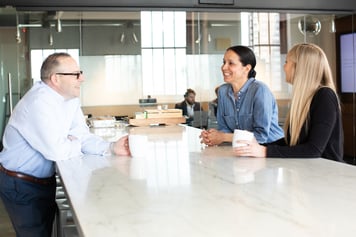 Several years ago, AdvisorEngine defined our company's core values. Towards the end, we realized that all of our values except for one started with the letter "C."

Determined to make it a clean sweep, Carly came up with 'Crushing It' - and we added it to the list.
1) Camaraderie
2) Curiosity
3) Clarity
4) Creativity
5) Crushing It
6) Celebration
She consistently embodies all of these values in her pursuit of delivering amazing client service.
A message from Carly
Upon hearing the news of her recognition, Carly wanted to share some words of appreciation.


---
This blog is sponsored by AdvisorEngine Inc. and CRM Software LLC. ("AdvisorEngine") The information, data and opinions in this commentary are as of the publication date, unless otherwise noted, and subject to change. This material is provided for informational purposes only and should not be considered a recommendation to use AdvisorEngine or deemed to be a specific offer to sell or provide, or a specific invitation to apply for, any financial product, instrument or service that may be mentioned. Information does not constitute a recommendation of any investment strategy, is not intended as investment advice and does not take into account all the circumstances of each investor. Opinions and forecasts discussed are those of the author, do not necessarily reflect the views of AdvisorEngine and are subject to change without notice. AdvisorEngine makes no representations as to the accuracy, completeness and validity of any statements made and will not be liable for any errors, omissions or representations. As a technology company, AdvisorEngine provides access to award-winning tools and will be compensated for providing such access. AdvisorEngine does not provide broker-dealer, custodian, investment advice or related investment services. AdvisorEngine and Junxure are registered trademarks of AdvisorEngine Inc.