Like many RIA owners, Charles Truhlar is a hard-driving, self-made entrepreneur.
Unlike most, he sings in a rock and roll band and makes music videos. "I'm a rocker at heart," he says.
Born in 1980, Truhlar grew up in a Chicago suburb in a family of 12 children. He inherited his entrepreneurial spirit from his father, who went from being a hot dog vendor to eventually owning his own wholesaling business. For his part, Charles collected stamps as a boy but needed to raise money to buy the rare stamps he needed. So he started his newspaper at age 12, selling copies to neighbors.
After a few years at local colleges, Truhlar began his business career making cold calls as a door-to-door health insurance salesman. "That's how I cut my teeth," he says.
After nine months, a twist of fate brought the young salesman to the retail side of financial services. In 2002, Truhlar walked into the offices of Country Financial, an independent property & casualty insurance agency, pitching his company's products. Impressed by his presentation, Country executives said: "You should be working for us," and Truhlar agreed.
Over the next six years, Truhlar became one of the company's top salesmen and a district manager. He spent one year with Shelter Insurance and six months with Nationwide Insurance, but after becoming a certified financial planner, he wanted to work more directly with clients who needed help. Truhlar began doing that in 2009, working full-time for his own insurance company and focusing on financial planning.
All along, Truhlar kept playing rock and roll.
"I started by making a drum kit of pillows and oatmeal boxes on my bed as a boy," he recalls. "When I was in my 20s, our band played in churches or wherever we could. Music was always in me. I just try to embrace it."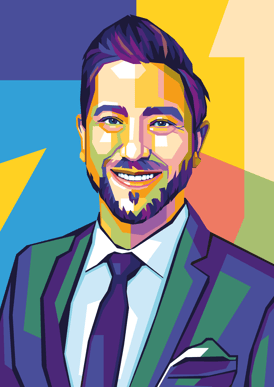 Truhlar founded Acrylic Financial, a Fountain Hills, Arizona-based RIA in 2017. He's also co-founder and chief investment officer of Acrylic Capital Management, partner at broker-dealer Brooklight Place Securities and chief distribution office of Brokers Alliance, a national insurance marketing organization.
As an investor, Truhlar believes in active management and what he calls "quantitative momentum" to take advantage of behavioral finance "and how it manifests in markets." Using individual stocks and ETFs, Acrylic uses screening criteria to guard against market correlation and try to distinguish between stocks trading purely on emotion and genuine market momentum.
"Sometimes momentum is triggered by emotion," Truhlar says. "What we're looking for is sustainable emotion."
There are also similarities between emotions created by music and markets, Truhlar says. "At a concert, thousands of people move instep or sing the same words and melodies together," he says. "If you look around, you'll notice very few are left out. Everyone is swept up in the emotion of the moment.
"Markets react similarly," he notes. "The announcement of a new Coronavirus, for example, sends the markets into a panic, if only for a short time. Most humans rarely want to be outliers of the crowd – they are swept up in the moment which causes the momentum to continue for a time."
Truhlar now devotes most of his musical time to producing music videos on YouTube under the name "Charlie Icon." "He's my musical alter ego," Truhlar says, "and allows me to express creativity in a way I couldn't do otherwise."


On the business side, Truhlar has been adding to his repertoire and creating software products for RIAs. Frustrated by existing compliance software on the market RIAs, he co-founded ComplianceBrain, allowing advisory firms to use an email and website archiving system to help firms comply with a maze of regulations.
Truhlar also helped develop software for life insurance and IT issues facing RIAs. Both products offer a key to his success to date: "Doors open when I see a problem."


---
This blog is sponsored by AdvisorEngine Inc. and CRM Software LLC. ("AdvisorEngine") The information, data and opinions in this commentary are as of the publication date, unless otherwise noted, and subject to change. This material is provided for informational purposes only and should not be considered a recommendation to use AdvisorEngine or deemed to be a specific offer to sell or provide, or a specific invitation to apply for, any financial product, instrument or service that may be mentioned. Information does not constitute a recommendation of any investment strategy, is not intended as investment advice and does not take into account all the circumstances of each investor. Opinions and forecasts discussed are those of the author, do not necessarily reflect the views of AdvisorEngine and are subject to change without notice. AdvisorEngine makes no representations as to the accuracy, completeness and validity of any statements made and will not be liable for any errors, omissions or representations. As a technology company, AdvisorEngine provides access to award-winning tools and will be compensated for providing such access. AdvisorEngine does not provide broker-dealer, custodian, investment advice or related investment services. AdvisorEngine and Junxure are registered trademarks of AdvisorEngine Inc.