Nowadays, RIA clients expect to use technology when working with financial advisors.
Having a superior digital experience is a significant differentiator for firms.
Franklin Templeton and AdvisorEngine recently partnered with Institutional Investor's Custom Research Lab to launch a research study comprising a survey and interview program among RIAs in the US.
The survey, conducted in September 2021, included responses from 152 independent RIAs to examine the utility of and outlook for investment in financial technology. The focus was on acquiring, serving and supporting investment advisory clients. The survey revealed that RIAs are most interested in client-facing technology.
More than 80 percent of those surveyed see the need for automation to support important processes like client onboarding, day-to-day client service, analysis of data through the client lifecycle, and marketing and business development outreach to tomorrow's clients.
Last week, I participated in a live webinar to discuss the findings with Jonathan Kingery, Head of Private Wealth & RIA at Franklin Templeton and Sam Knox, Managing Director at Institutional Investor.
We all agree that this report reinforced where the industry is headed. Digital technology is critical for meeting current client demands, recruiting top talent, and capturing Gen-X and Millennial clients. The accelerated pace of technological advances is rapidly refreshing how financial solutions are delivered.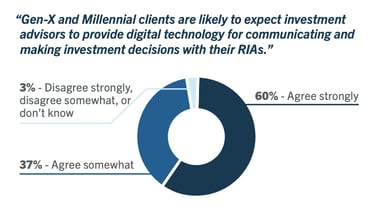 Amid a massive transfer of wealth and increase in the use of digital technology, RIA firms have an opportunity to deploy information technology in ways that will help them acquire clients more efficiently and serve them more effectively.
Thinking about fintech reminds me of how the Internet evolved. With the internet, we first had Web 1.0 – the earliest version – then Web 2.0 and now Web 3.0. Remember, Web 1.0 was simply a set of static websites with no interactive content. I equate the first set of advisor technology the same way. Advisor tech 1.0 took care of back-office processing, things like fee billing, invoicing and performance reporting. Version 2.0 consists more of the middle office functions like requesting wires or trading and rebalancing. Now 3.0 builds on that by tackling the client experience.
RIAs believe that the greatest ROI is captured through technologies that enhance client-centric activities such as onboarding and client communications. They also see great value in systems that facilitate aggregated views of client holdings. Sixty-nine percent of respondents think the most significant value for technology integration is the ability for asset/account aggregation that provides a unified view of holdings to clients.
Digital infrastructure gives firms the ability to meet regulatory and reporting requirements more efficiently and can increase firm valuation. Forty percent of respondents agree strongly that "RIA firms are likely to have increasing difficulty complying with regulatory and reporting requirements without digital infrastructure."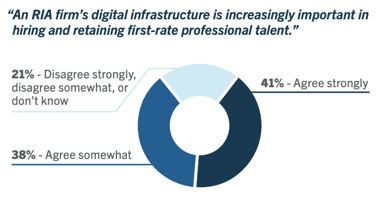 We also discussed the importance of technology in finding and retaining talent. Having digital capabilities is also crucial to building a winning team in a tight labor market. Forty-one percent of respondents strongly agreed that "an RIA firm's digital infrastructure is increasingly important in hiring and retaining first-rate professional talent." Advisors know that technology is the key to success.
As an RIA, you have the privilege and challenge of making business decisions that go well beyond investment selection. AdvisorEngine welcomes the opportunity to demonstrate how we can be your technology partner.
---
This blog is sponsored by AdvisorEngine Inc. The information, data and opinions in this commentary are as of the publication date, unless otherwise noted, and subject to change. This material is provided for informational purposes only and should not be considered a recommendation to use AdvisorEngine or deemed to be a specific offer to sell or provide, or a specific invitation to apply for, any financial product, instrument or service that may be mentioned. Information does not constitute a recommendation of any investment strategy, is not intended as investment advice and does not take into account all the circumstances of each investor. Opinions and forecasts discussed are those of the author, do not necessarily reflect the views of AdvisorEngine and are subject to change without notice. AdvisorEngine makes no representations as to the accuracy, completeness and validity of any statements made and will not be liable for any errors, omissions or representations. As a technology company, AdvisorEngine provides access to award-winning tools and will be compensated for providing such access. AdvisorEngine does not provide broker-dealer, custodian, investment advice or related investment services. AdvisorEngine and Junxure are registered trademarks of AdvisorEngine Inc.