Michael Tiedemann's interest in finance began at home.
His father, Carl Tiedemann, was a founding partner and later president of the renowned Wall Street investment bank Donaldson, Lufkin & Jenrette. But Tiedemann, the co-founder and chief executive officer of New York-based Tiedemann Advisors, says his father never pressured him to go into the family business.

Carl did, however, make sure to tell his son why working in finance appealed to him. "He said you're constantly learning, you're always meeting smart and interesting people, you're finding out about different trends and global developments," Tiedemann says. "In short, finance teaches everything."

The intellectual stimulation of a career in finance appealed to Michael as well. After graduating from Ohio Wesleyan University, he worked briefly as an emerging markets research analyst at his father's investment firm, Tiedemann Investment Group.

Inspired by his older brother's post-graduate travels through Asia, Tiedemann also wanted to see the world and began to travel around Latin America. In 1994 he joined the equity research group at Banco Garantia, one of Brazil's leading investment banks.

Tiedemann lived in Brazil for two years, then moved back to New York, where he ran the bank's equity sales and trading operations, frequently traveling back to Rio de Janeiro.

"I traveled all over the country and saw all parts of Brazil's capital markets," Tiedemann recalls. "I was in my 20s and never would have gotten that kind of exposure if I had stayed in New York and was getting coffee for senior executives at a large Wall Street firm."

Credit Suisse acquired Banco Garantia in 1998. Tiedemann stayed on for two more years, heading up the sales trading desk. But he missed the entrepreneurial feel of a smaller organization and was receptive when his father pitched him on the idea of starting a new trust company.

"There was a need in the market for a trust company that was a fiduciary, had the expertise and a flexible service model," Tiedemann says. "Family offices were being started around that time and needed trust services. But there were no clients and no revenues and I was starting a business with a 74-year-old man. Even so, it was a good idea and I was 29 years old, so it was the right time to take a risk."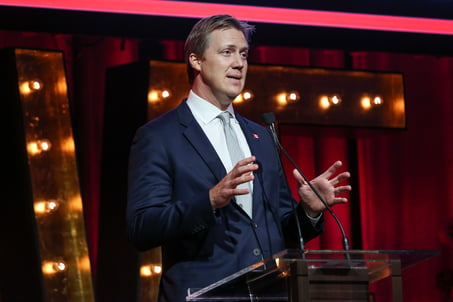 More than two decades later, Tiedemann's gamble has paid off spectacularly. In addition to being a trust company, Tiedemann Advisors is a full-service wealth manager and family office with nearly $20 billion in assets under management. The minimum investable assets for new clients is $25 million and the average investment for the firm's 400 clients, according to Tiedemann, is $60 million.

The RIA has made two major U.S. acquisitions, buying Presidio Capital Advisors in San Francisco and Threshold Group in Seattle. Tiedemann is now looking to expand internationally while concentrating on organic growth in the U.S. ultra-high-net-worth market.

The secrets of the firm's long-term success?

Tiedemann emphasizes working with clients as a fiduciary, eliminating conflict, investing in technology, and offering clients a "permanent organization" that retains key people with equity stakes.

"Tiedemann was among the first, small group of fiduciaries to target the UHNW segment," says industry consultant Jamie McLaughlin. "They've managed an internal equity ownership transition from founder Carl Tiedemann to a broad group of employees without using outside capital. While they remain an independent boutique, they're building institutional character with scale, a national footprint, and, most importantly, a cultural differentiation characterized by fierce client advocacy and a unified esprit de corps."

ESG and impact investing have also been one of the wealth manager's specialties and Tiedemann bought Threshold in 2017 because of that firm's expertise and experience in the field. Indeed, client interest in ESG has been "the fastest growing area of interest in the firm," Tiedemann states.

"Clients take a survey that helps them identify what their priorities are," Tiedemann says. "We can then orient their priorities to link up with their underlying assets. But we take a non-concessionary approach to ESG in portfolios; we're not conceding lower returns."

Diversity, equity and inclusion have also been a priority for Tiedemann.

"We're fully committed," Tiedemann says. "It's part of the culture of success."

That commitment also extends to non-profit ventures such as The River Fund New York, which played a major role in distributing food to families in need during the pandemic. Tiedemann's role as founder and chair is of a piece with his role as a financial advisor.

"I really enjoy being a fiduciary," he explains. "It's a dominant part of my DNA."
This article is part of AdvisorEngine®'s community conversation initiative. We're excited to bring you interviews with wealth management professionals from across the industry. We hope you find inspiration and insights from the life lessons they've learned and the business practice challenges they've faced. If you'd like to participate or know someone we should profile, reach out to us here.


---
This blog is sponsored by AdvisorEngine Inc. and CRM Software LLC. ("AdvisorEngine") The information, data and opinions in this commentary are as of the publication date, unless otherwise noted, and subject to change. This material is provided for informational purposes only and should not be considered a recommendation to use AdvisorEngine or deemed to be a specific offer to sell or provide, or a specific invitation to apply for, any financial product, instrument or service that may be mentioned. Information does not constitute a recommendation of any investment strategy, is not intended as investment advice and does not take into account all the circumstances of each investor. Opinions and forecasts discussed are those of the author, do not necessarily reflect the views of AdvisorEngine and are subject to change without notice. AdvisorEngine makes no representations as to the accuracy, completeness and validity of any statements made and will not be liable for any errors, omissions or representations. As a technology company, AdvisorEngine provides access to award-winning tools and will be compensated for providing such access. AdvisorEngine does not provide broker-dealer, custodian, investment advice or related investment services. AdvisorEngine and Junxure are registered trademarks of AdvisorEngine Inc.