Few sports tournaments grip the public imagination as much as March Madness.
Plenty of investment professionals are NCAA basketball fans too, so we're highlighting tales of March Madness from the wealth management community to mark the occasion.
This story comes from Derek Bruton, senior managing director for the Gladstone Group. Bruton was formerly a managing director at LPL Financial and most recently CEO of Kingswood USA, an RIA with offices in New York, Atlanta, and San Diego.
Bruton was a member of the 1989-1990 Stanford Cardinal men's basketball team and later played professional basketball in Japan. He explains to AdvisorEngine how his one trip to March Madness provided a painful lesson about the importance of preparation in competition and learning to live with defeat.
The worst 24 hours of my life began the evening of March 16, 1989.
I was on the Stanford Cardinal basketball team, and we touched down in Greensboro, North Carolina, as the number three seed in the 1989 NCAA Basketball tournament. It was the first time in over 40 years the school had even been invited to be part of March Madness.
We were a formidable team, big and tough, ranked 12th in the country going into the tournament.
We had Todd Lichti, a 6'4" phenom with a 40" vertical leap and a deadly pull-up jumper. Lichti, a shooting guard, would become an NBA lottery draft pick after the season. We also had a freshman power forward named Adam Keefe, who would go on to be the third-leading scorer in Stanford history (behind Lichti) and a future first-round NBA draft pick.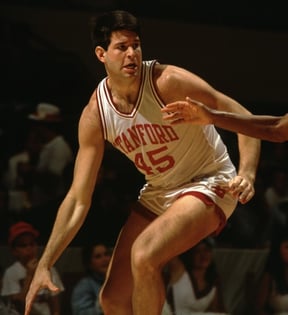 I was a junior center on the team, serving as a "role player," which is to say that my job at a solid 6' 10" was to go in there, take up space, play defense and grab rebounds.
Coached by Mike Montgomery, we were poised to go deep into the tournament that year.
Our first-round draw in the tournament was Siena.
Who? That was the question just about everyone at Stanford asked when the tournament pairings were released.
No one knew of Siena, a small Catholic college located outside of Albany, New York. I'm sure most of our young, mostly West Coast-based team had no idea even where Albany was on a map.
Montgomery and our coaching staff were smart to realize the dangers of underestimating an unknown foe. Siena had won the North Atlantic Conference, apparently had a talented backcourt, and clearly had done well enough during the season to earn a number 13 seed in the tournament. My teammates and I were warned repeatedly by Montgomery to not take this game lightly.
We had some grainy scouting videos of Siena, but remember, this is before the days of streaming video or even the high-end scouting services available today. We didn't know our opponent very well, and I'd be lying if I said some members of the team were already looking past Siena and focusing on the second round.
The team boarded a plane in San Francisco and landed in Greensboro at 6 p.m. on March 16th. The game was scheduled for 10:30 a.m. the next day.
In their wisdom, the Stanford Athletic Department decided to fly the team across the country the night before the first game. Take the normal nervousness of playing in a big game, throw in the extra anxiety of playing in Stanford's first NCAA tournament game in over four decades, and then top that off with your normal jet lag. All of that added up to 13 basketball players wide awake and looking at the ceilings of our hotel rooms at 3 a.m. when we should have been asleep.
I recall that when the game started, we didn't step on the floor acting like the 12th-ranked team in the country or the top-seeded team for the game.
Within the first few minutes, our team and coaches realized Siena was not only talented, but they were playing as though they had nothing to lose.
Siena was scoring almost at will, led by a very talented player named Marc Brown. The basket was like an ocean to this barely 6-foot guard. He played like Steph Curry that day, scoring 32 points. The crowd was chanting his name by the end of the game.
We kept the game close, despite losing Lichti for several minutes in the first half and again in the second half after he banged his head on the floor, diving for a ball. There was no "concussion protocol" back then, but that's probably what he experienced. Freshman Keefe had a breakout game and kept us in the hunt.
After multiple free-throw exchanges to close out the game, we all looked up in horror at a score I will remember the rest of my life – Siena 80, Stanford 78. A gut-punch of all gut-punches. The nightmare of all nightmares.
Reality set in after the game in the locker room. Our team manager said there was a flight leaving Greensboro in 90 minutes, and if we wanted to be on it, we had to hustle. Coach Montgomery didn't even pause: "Let's get out of here now!"
Boarding the bus, all I thought about was how my NCAA Tournament experience had just ended before it seemed to start.
The visions of going deep into the tournament were dashed. My family, my friends, the entire Stanford community just saw this major upset, and a major wave of shame came over our team, knowing how we had just disappointed so many.
Somehow, I drew the short straw and had to sit next to Coach Montgomery on the bus on the way to the airport. To his credit, although he was very angry and full of shame, he remained calm and collected on that bus ride. Still, that ride to the airport was about as enjoyable as getting a back adjustment from an angry chiropractor.
The Stanford community had plenty to be unhappy about, but we were not treated like the pariahs we imagined we'd be when we got home. We received a lot of support from friends, the school faculty and the Stanford alumni. But one question continued to come up, day after day, and then month after month, and ever since I graduated from the university, "You lost to Siena?"
Thankfully for all those on the 1989 Stanford team, many other significant upsets have pushed our loss to Siena back further into the annals of NCAA history. In 2018, Virginia, a number one seed, lost to UMBC, a number 16 seed, perhaps one of the largest upsets ever in all of sports.
In fact, Stanford Men's Basketball went on an amazing run over the next few decades, making it to the tournament almost every year and becoming a Final Four team in 1998.
But, for the team and coaches on the floor that day in 1989, we will always remember the name Siena, that 80-78 score, and those 24 hours in hell.
Like Bruton's tale from the 1989 tourney, countless moments from the "Big Dance" make great storylines – it's called madness for a reason. Do you have a memorable March Madness story you'd like to share? Whether as a player, alumni or even a fan. We'd love to hear it. Submit your story here.


---
Stay ahead of your competition
Take AdvisorEngine CRM for a test drive today

---
This blog is sponsored by AdvisorEngine Inc. and CRM Software LLC. ("AdvisorEngine") The information, data and opinions in this commentary are as of the publication date, unless otherwise noted, and subject to change. This material is provided for informational purposes only and should not be considered a recommendation to use AdvisorEngine or deemed to be a specific offer to sell or provide, or a specific invitation to apply for, any financial product, instrument or service that may be mentioned. Information does not constitute a recommendation of any investment strategy, is not intended as investment advice and does not take into account all the circumstances of each investor. Opinions and forecasts discussed are those of the author, do not necessarily reflect the views of AdvisorEngine and are subject to change without notice. AdvisorEngine makes no representations as to the accuracy, completeness and validity of any statements made and will not be liable for any errors, omissions or representations. As a technology company, AdvisorEngine provides access to award-winning tools and will be compensated for providing such access. AdvisorEngine does not provide broker-dealer, custodian, investment advice or related investment services. AdvisorEngine and Junxure are registered trademarks of AdvisorEngine Inc.