Do you have someone at your investment advisory firm closely following advisor technology trends?
If not, it might be time to hire someone whose role includes that responsibility - especially since tech is at the heart of rapid practice changes and tougher regulatory scrutiny, said industry experts at this year's Insider's Forum in Nashville.


For many attending the event, it was the first time since lockdowns began in 2020 that they were able to see colleagues and friends in person.

And when the advisor technology presentations began, there were some familiar industry challenges brought up on stage too.

For one thing, the new reality of working remotely has only increased cyber risks for advisors, warned longtime industry technology observer Joel Bruckenstein, who noted that as a topic it still had "very low engagement by wealth advisors."

(That, despite wealth management emerging as a magnet for cybercrime; only healthcare is targeted more than financial services by hackers, according to a study by PwC.)

Bruckenstein, founder of the Technology Tools for Today conference (and known on Twitter as @fintechie) said that cybersecurity is now the top risk in the eyes of regulators, and increasingly a focus of their audits.

He shared some tips on how firms can get smarter about cybersecurity:
Review and analyze for gaps in your cybersecurity policies.

Follow your policies or your insurance will not cover your firm in case of an incident.

Split cybersecurity and IT into separate functions.

Separate networks are a must if others are at home online.

Consider updating your routers and IT hardware.
Other presentations came to the same conclusion: under the Biden administration, the advice industry is facing probably the most aggressive regulatory environment it has ever seen.

One specific marketing tactic facing scrutiny is client testimonials. The new SEC Marketing Rule will permit newly defined testimonials and endorsements as long as disclosure, oversight, and disqualification requirements are met.

The advice presenters provided on testimonials could be summed up simply as, "Be very careful."
---
For more detailed guidance on marketing and business development compliance tips, we've got some tips for you:
---
Experts also cautioned advisors on cryptocurrency.

Despite its embrace by some firms, there are still several questions about how advisors would charge for advising on these assets. Another challenge, they noted, is that currently, they are not aware of any E&O insurance policy that would protect an advisor in a loss claim made by a client regarding crypto. You should check before diving in.

There was more tough love dispensed on the topic of advisor technology too.

Bruckenstein said he observed an industry split among firm use of technology. Many are not getting more out of their tech stacks for one simple reason – there's not enough training and practice.

He estimated industry-wide firms were only reaching 50% of the functionality their tech tools provided, resulting in a missed opportunity and an added cost.

"A real measure of ROI for your tech -- it's not just the cost of the software, there are also training time and upkeep," he said.

Bruckenstein added technology vendors could do more to help advisors too.

"Tech firms should consider that people learn in different ways," he said. "Whether it's in-person, with documentation or through videos. You need an in-house training expert at your firm and they need to share that knowledge."

It was great to be back, surrounded by industry experts and advisors. This event always provides essential information for running and growing prosperous advisory businesses. AdvisorEngine was proud to be a sponsor, our goal is to help you serve all your clients at scale.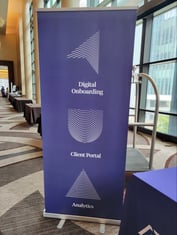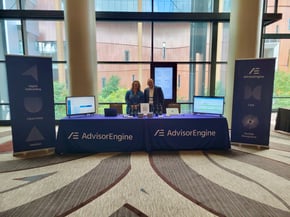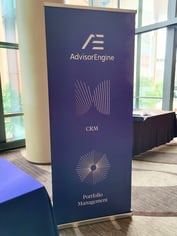 ---
This blog is sponsored by AdvisorEngine Inc. and CRM Software LLC. ("AdvisorEngine") The information, data and opinions in this commentary are as of the publication date, unless otherwise noted, and subject to change. This material is provided for informational purposes only and should not be considered a recommendation to use AdvisorEngine or deemed to be a specific offer to sell or provide, or a specific invitation to apply for, any financial product, instrument or service that may be mentioned. Information does not constitute a recommendation of any investment strategy, is not intended as investment advice and does not take into account all the circumstances of each investor. Opinions and forecasts discussed are those of the author, do not necessarily reflect the views of AdvisorEngine and are subject to change without notice. AdvisorEngine makes no representations as to the accuracy, completeness and validity of any statements made and will not be liable for any errors, omissions or representations. As a technology company, AdvisorEngine provides access to award-winning tools and will be compensated for providing such access. AdvisorEngine does not provide broker-dealer, custodian, investment advice or related investment services. AdvisorEngine and Junxure are registered trademarks of AdvisorEngine Inc.