Today, Junxure CRM has transformed to AdvisorEngine® CRM.
This product evolution is the result of four years of hard work to harness the best of Junxure and bring it forward into the future.


Junxure has been a powerful, purpose-built CRM for over twenty years, with an amazing community of clients using it every day. The AdvisorEngine team is excited to continue that tradition and infuse it with innovation as well. It's an important milestone – and the work continues from here.
What we've delivered:
Personalization. Powerful, easy-to-use configuration is available at both the individual user and firm levels. Simple to use, 'drag-and-drop' editing is among many capabilities that gives users the flexibility to organize their data experience, create workflows and support their client service segmentation strategy.
Prospecting Tools. An easy online form builder turns website visitors into prospects. Web Forms can be created in a few simple steps without any coding expertise. Submissions are automatically captured by the CRM, saving time by eliminating manual data entry.
Client Profile. The CRM's most heavily used area has been fully reimagined to benefit light adopters and power users. Client information is surfaced in a clean, actionable format. Users save valuable time by using new direct editing capabilities that eliminate the need for multiple clicks into secondary screens.
Activity Feed and Alerts. The feed delivers a new consolidated streaming view of important operational activities relevant to each user in real time. Enhanced reminders with expiration dates allow for automated cleanup of past tasks.
Modern Technical Architecture and Design System. A reengineered software architecture improves system performance, so pages load faster. It also allows AdvisorEngine developers to innovate and add new CRM features more rapidly. Updated navigation, pages, fonts and color schemes provide users a modern experience.
AdvisorEngine CRM will continue to be offered as a standalone product. Our commitment to an open-architecture approach remains. Backed by the exact same great client care and training our clients have come to trust.
To our clients, partners and team – I'm so proud of what we are building together. Thank you for your engagement and continued support.


I'd like to share with you how we got here.
Vision
Junxure has always been a really strong wealth management CRM – helping firms drive productivity, deliver highly personalized client care and grow. Standout features have included purpose-built workflows and communication tools.
But we knew that there was untapped potential – an opportunity to modernize the experience, expand capabilities, add smart automation, foster advisor-client engagement and help advisors grow. And if we really got it right - no technology consultants would be needed. Advisors would be able to personalize the CRM - to make it their own - with no outside help.
So when we acquired Junxure four years ago, we immediately began drawing up a plan to transform it. We knew it had to be tackled in big steps that were nothing short of reinventing the entire product.
Delivering on the innovation to achieve this vision isn't completed overnight.
We created a product development journey broken out into three phases: First: upgrade the CRM's infrastructure. Second: build deeper and more integrations with key third-party fintechs and custodians. Third: develop a design system and brand new capabilities to support a delightful experience.
To enable this aggressive plan, we grew our resources by over 40% and doubled our product management and design team. And we got to work.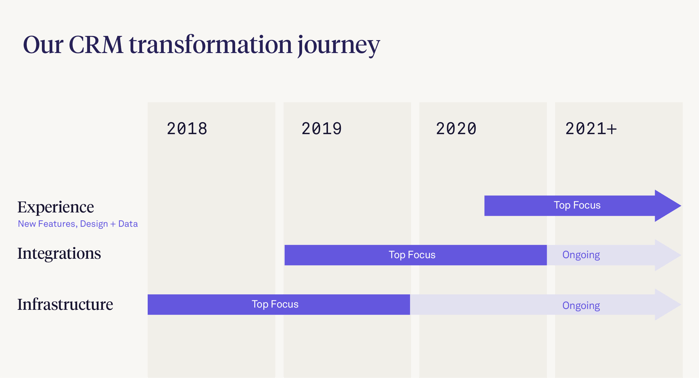 Phase 1: Infrastructure
Our first phase was constructing a new technological foundation for our CRM. Essentially: the beams, columns, floors, and walls that modern software is built upon, along with the wiring and plumbing that make it work and the insulation and exterior that keeps it secure.
It was a major investment into infrastructure that was behind-the-scenes: users wouldn't ever see directly. But we knew it was essential to deliver a more powerful, rapid, scalable and secure environment.


Phase 2: Integrations
A connected, open ecosystem is critical to meeting the needs of financial advisors. So the next phase of our plan focused on developing new or deeper integrations with major custodians and many of the popular advisor tools.
The results? To name a few… We were the first CRM to offer digital account opening integration with Schwab Advisor Services™. Other new integrations connected all of an advisor's client communications – texts, emails, voice calls, notes and meetings – and can be seen in the client profile. These data points are also integrated into our CRM workflows, automatically creating actions to drive productivity. Additional integrations included key planning and portfolio management platforms.
Phase 3: Experience (new features, design and data)
Finally, it was time to reimagine the CRM experience. This phase required curiosity, creativity, and a ton of persistence to complete.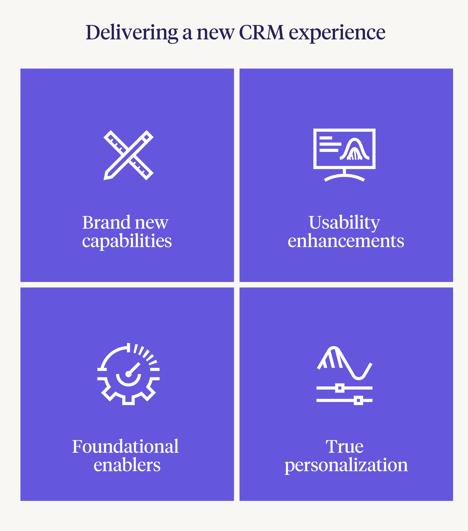 We delivered across four categories in this phase:
Brand new capabilities. Configuration. Cards/Widgets. Activity feed. In-line editing. Webforms.
Usability enhancements. Cleaner organization and data hierarchy. Reduced clicks. Easier updating. Faster application. Smarter reminders.
Personalization. Role permissioning + entitlement. Card inclusion. Card organization. Data flexibility. Firm-level layouts
Foundational enablers.

Enterprise orientation. Design system. Microservices. Feature flagging. No-code customization. Public-facing API.
We started by gathering, reviewing, categorizing and analyzing thousands of points of client feedback. Next up was multiple rounds of usability testing with clients across the various roles in a practice. All to ensure that our work would make the biggest impact possible for our clients.
When many people hear the word 'design,' they often only think of look-and-feel. But when we use that term, we're describing the process to create the full experience that people feel when using our product.
Our new system gives us a modern, consistent, scalable framework that will be leveraged going forward, for every software release that we do.

AdvisorEngine's phenomenal design team provides an in-depth explanation of how we applied design principles. Click here to read more.
The result
When clients logged on after the update, they immediately felt the transformation. Some feedback we have received from clients, so far: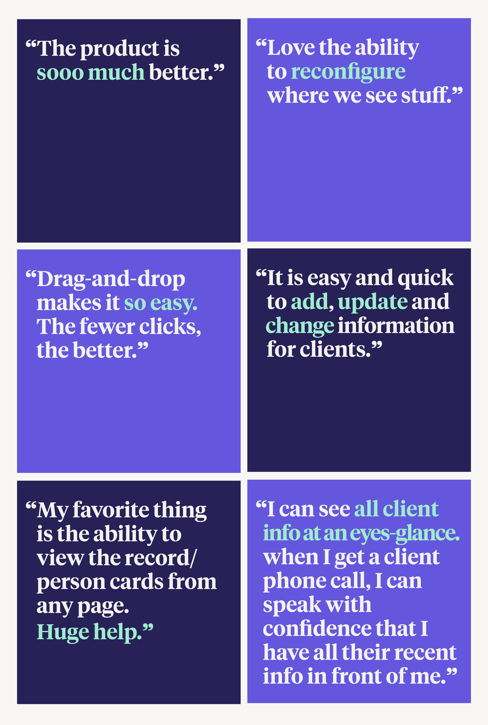 Next up
I am so proud of our talented and dedicated team – who is already hard at work on what's next. And I can't wait to deliver it to you.


Rich Cancro, Founder & CEO
AdvisorEngine
---
This blog is sponsored by AdvisorEngine Inc. The information, data and opinions in this commentary are as of the publication date, unless otherwise noted, and subject to change. This material is provided for informational purposes only and should not be considered a recommendation to use AdvisorEngine or deemed to be a specific offer to sell or provide, or a specific invitation to apply for, any financial product, instrument or service that may be mentioned. Information does not constitute a recommendation of any investment strategy, is not intended as investment advice and does not take into account all the circumstances of each investor. Opinions and forecasts discussed are those of the author, do not necessarily reflect the views of AdvisorEngine and are subject to change without notice. AdvisorEngine makes no representations as to the accuracy, completeness and validity of any statements made and will not be liable for any errors, omissions or representations. As a technology company, AdvisorEngine provides access to award-winning tools and will be compensated for providing such access. AdvisorEngine does not provide broker-dealer, custodian, investment advice or related investment services. AdvisorEngine and Junxure are registered trademarks of AdvisorEngine Inc.